When Sooney can eat the same breakfast 2 days-in-a-row, it's a clear signal I may be onto something special . So here are the steps for Nick's basic breakfast burrito. Where you take this recipe is up to you; you really can't mess it up. I'd be curious to learn about any adaptions you may have made worth sharing. There's a contact form in the right sidebar, so don't be shy.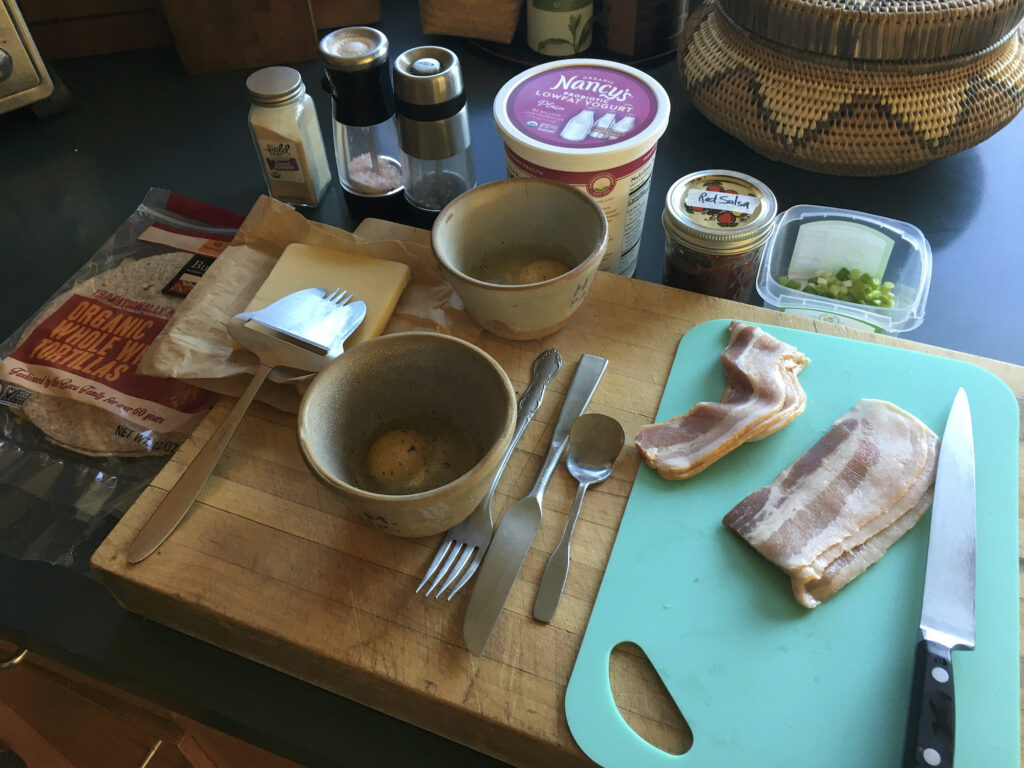 Ingredients (for 1 serving)
1 egg, 1 slice of crispy bacon, ½ scallion, sharp cheese, flour tortilla, salsa, salt & pepper, garlic powder, and avocado oil. For a garnish, I like to use thick yoghurt Instead of sour cream and it works just fine. A couple slices of avocado are a great addition either for inside or as a garnish on the plate. Chopped cilantro adds a nice touch on top of everything. Yum!
Preparation
I prefer to have all my ingredients prepared in advance because everything's assembled rather quickly. After cooking the  bacon, remove the grease, scrap the pan, and increase the heat to medium/high. The skillet should optimally be abut the same diameter as your tortillas.  When nice and hot, add some oil and spread it around so it covers the bottom with a thin coating. Don't skimp here.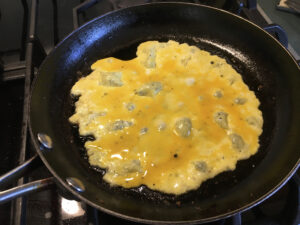 While the pan is heating up, break an egg into a small bowl and beat in salt, pepper, and some garlic powder. When the pan is shimmery, pour in the egg mixture and rotate the skillet so it doesn't puddle in the middle but spreads over as much of the bottom as possible.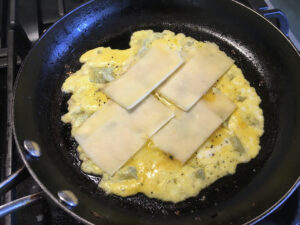 You don't want the egg to burn (it should cook in no time), so grab several slices of cheese and lay them on the bubbling egg. Before adding the tortilla, lavishly spread a salsa of your choice on one side and then place the tortilla salsa-side-down right onto the egg and cheese, pressing it gently in order to bond.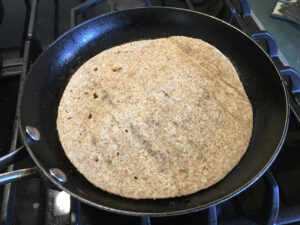 After about 15 seconds, you should be able to lift the pan and slide its contents about. If there's any sticking, gently release with a spatula.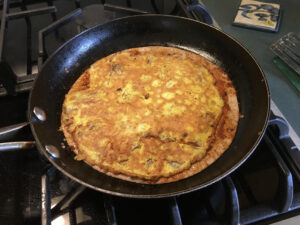 Now comes the time to flip the egg, cheese, and tortilla and add additional ingredients. I use a spatula and usually everything ends up just fine. Add the chopped scallions and crispy bacon broken into 1″ pieces. A thin layer of yoghurt and maybe some avocado slices would be nice, too.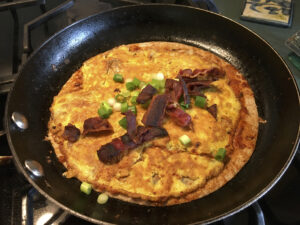 After a minute, it's time to wrap it all up. How effectively you're able to roll it depends how much stuff you added. I use a spatula to fold it ⅓ of the way and then roll it the other ⅓ of the way so the opening is facing down.
Turn down the heat, and after a minute or so, roll the burrito face up and spread another thin layer of yoghurt on top. Top that off with a little more salsa and some chopped cilantro. (I didn't have any on photo day.)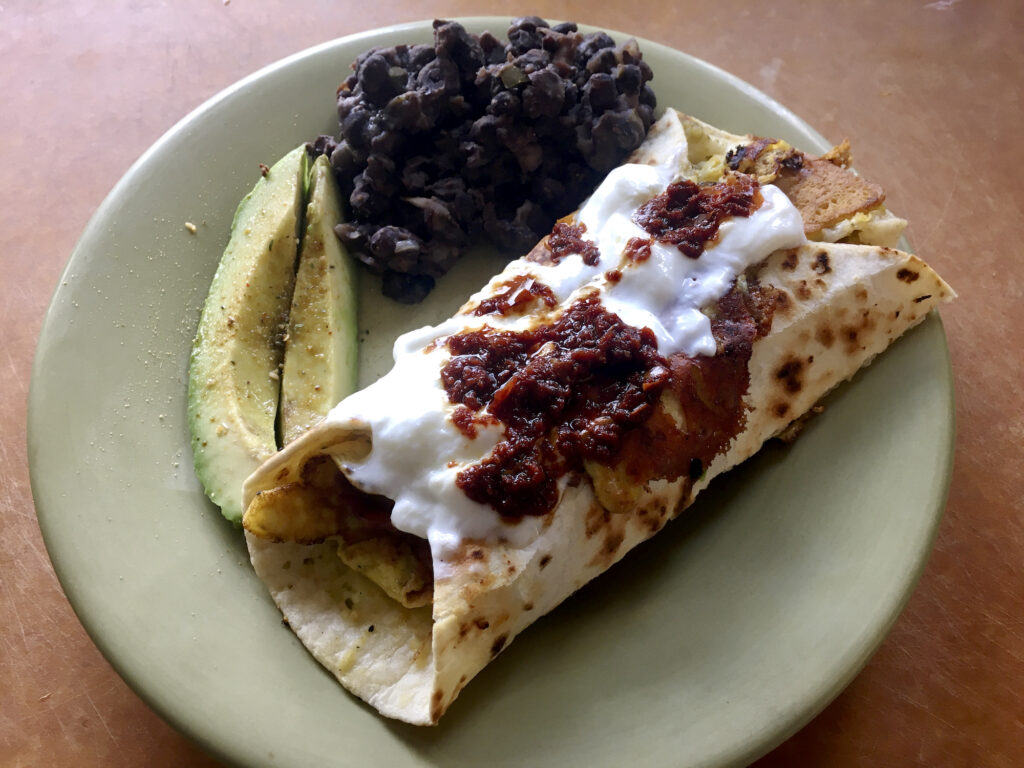 There you have it. If you're making another one, the pan will need a little scraping, a little heat, and a bit more oil. I suppose you could make a bunch and keep 'em warm in the oven. Or, hey, let them cool and refrigerate for another time. Buon appetito.