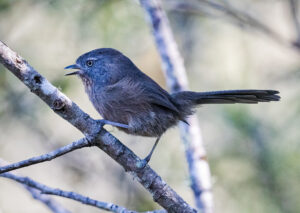 While on a spring birding adventure that included the Godwit Birding Festival in Arcata, CA, we birded a stretch of coastal vegetation at Trinidad, CA. Following a meal at a popular diner at the boat launch, we drove to a trailhead and set off looking for shorebirds. Our route meandered along a path cut through a stretch of dense overgrowth consisting of salal, wax myrtle, and huckleberries—maybe even some blackberries—and who knows what else. From within that mixture emanated the familiar call of a Wrentit, a secretive bird found only in the far west from Washington down into Baja, California.
The Wrentit is larger than the Pacific Wren but has a shorter and thinner bill. Both are fond of insects and seeds found in the tangled undergrowth of mature forests. But it's not a wren at all. It's a distinctive species, combining features of wrens and titmice but is actually related to a family of Old World warblers and babblers. They feature a cute little face with an engaging eyebrow, and their dark brown plumage and paler, pinkish-brown underparts contrasts with the brightness of their pupils. Wrentits blend easily into shadowy interiors of shrubby plants, and appear comfortable within their domain, moving briskly and erratically through the twigs as solitaire or as pairs. Waiting for them to emerge for an unobstructed sighting is time-consuming and often frustrating. For that reason, the Wrentit fell into my category of nemesis bird due to its elusiveness and difficulty to photograph.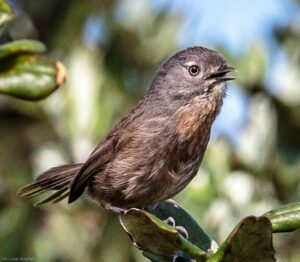 On that walk in 2018, however, there was something curious about our presence that inspired a Wrentit to suddenly appear for a curious glance before retreating into the safety of the chaparral. My camera was ready and I captured my first image of the secretive bird. Fast forward to 2020.
We were camping at Bullard State Park in Bandon, OR, and hiked the trail beginning from the B loop of the campground. The path leads to the shore, and can be difficult walking as much of it is beach sand through stands of stunted coastal pines and other conifers. Further along, the trees give way to coastal shrubs, and the trail becomes more soil-like, and the flora more closely resembles the habitat of my elusive bird. We'd hear its call—pwip, pwip, pwip, followed by a decelerating trill—and wait for some movement. One or two would suddenly appear and my Canon would fire off a burst that occasionally resulted in a lucky shot. Without a doubt the melodious call of the Wrentit is a prominent song of our coastal camping adventures.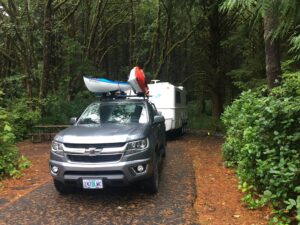 This writing comes near the end of a week-long camping trip beginning at the Carl Washburn Memorial State Campground, 10 miles south of Yachats, OR. It's a beautiful park, complete with full hookups, and is nestled into the moss-covered forest populating the coastal hillsides of northern Oregon. Situated on the east side of Hwy. 101, there's a ½ mile trail connecting the campground with the shore. Its dense moss-covered route eventually opens into the perfect habitat of the Wrentit, and they're not likely to disappoint. Leaving the high-pitched squeak of the Chickadee and Song Sparrow back in the dark forest—and an apparently resident Bard Owl that spooked us on our late-afternoon walk—the sun again appeared and brightened the coastal plants that tower on both sides of the trail. We paused to enjoy ripe Huckleberries with the roar of the nearby surf and the melodious song of Wrentits vocalizing all around us. With luck you may see them scurrying about, their silhouettes deep in the vegetation. Out of nowhere one may flit from one side of the path to the other, penetrating the dense wall of the trail as would a knife into soft butter. Rarely do they linger long enough to capture a photo suitable to accompany an eBird checklist post.
When you'd least expect it, surprises occur while walking trails—some becoming permanent chapters of one's connection with nature. 15 miles south of our first campsite near Yachats, we'd relocated farther south to the Oregon Dunes State Park and camped for 4 nights in the Forest Service's Lagoon Campground. There's plenty to do there, and we enjoyed putting our kayaks in the slow moving river connecting Siltcoos Lake with the coast. Our route was calm due to a small dam mid-way along our route, and a Kingfisher (or, more accurately, a Queenfisher) accompanied us at various stages along the canoe trail. There's a fish ladder adjacent to the dam, and occasionally a salmon would surface nearby, indicating that it worked.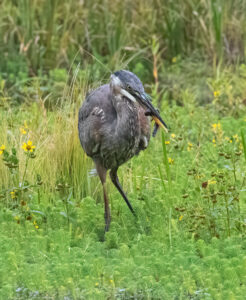 The campground is located adjacent to an oxbow lake that was once a part of the Siltcoos River. While most oxbow lakes are created when a loop in a river cuts itself off from the main river, this lake was created in the 1930's when engineers constructed a road to the coast thereby cutting off the lagoon. With the flow cut off, sediments carried in from seasonal flooding builds up, and the old river channel becomes more shallow. Water-tolerant plants like salal, Douglas spirea, and huckleberry take root along the lakes's edge. Over the years, this lagoon has rapidly turned into a wetland forest; its meadow moist and ideal for a resident Great Blue Heron hunting salamanders.
After a few days of rain, blue skies returned and the weather was divine. Sooney and I stepped out one afternoon with the late sun highlighting the water plants and the invasive parrotfeather (originally from South America) that's slowly overtaking the lagoon. Suddenly, and completely removed from their typical habitat, no fewer than 5 Wrentits appeared in an exposed shrub and scampered about with unusual abandon and rapid chattering. My shutter clicks appeared to amuse them, and on more than one occasion one or more of the birds would pause and gaze in my direction—a mere 6' from where we were standing. We interacted with the birds for the better part of 5 minutes and it was like another universe compared to earlier interactions with Wrentits.
Be what it may, we're that much luckier at having a completely different sighting of the bird and, the Wrentit no longer falls into the category of nemesis bird. Making room for, of course, the next challenging bird to pursue; perhaps the flocks of Red Crossbills frequenting coastal pines and conifers extracting seeds from cones.
Slideshow: I've compiled a collection of photos into a slideshow that will help us remember the beauty of the Oregon coast. After clicking the ▶️ button, be patient because it may take 10-15 seconds for the slideshow to begin.
[embed-google-photos-album link="https://photos.app.goo.gl/aQanVfP4kvhZLfMv9″ delay="8″]