Hacienda Guachipelin – Guanacaste, Costa Rica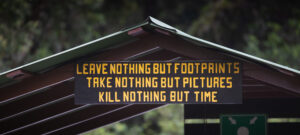 Planning for a month-long journey to Costa Rica took nearly a month, and once we got rolling everything fell nicely into place. Beginning with an afternoon departure, we overnighted in LAX where we connected with the rest of our family who'd arrived earlier that afternoon from Bend. Most of our recent travel has been to points east, and unless one prefers a red eye flight, Medford departures to eastern destinations customarily depart in the early morning to compensate for time zone fluctuations. Very dark early. Ugh. This time we enjoyed an afternoon flight that provided time for breakfast, lunch and a walk. Smooth way to depart.
The following morning, we hopped onto our non-stop flight to Liberia, and comfortably assimilated the Pura Vida lifestyle that is the embodiment of Costa Ricans. After picking up our rental, Alicia deftly navigated around the Nightjars hawking insects from the roadway and patiently stopping as we listened through the open windows to the insects and breathed in the warm Guanacaste air.  During the roughly 45-minute drive to our first accommodation,  Hotel Hacienda Guachipelin, excitement filled the car: "What was that? Did you hear that? Oh, a snake on the road. Is it dead?" Reception was prepared for our late arrival, and arranged for a light supper by the pool that set the pace for our 4-day visit.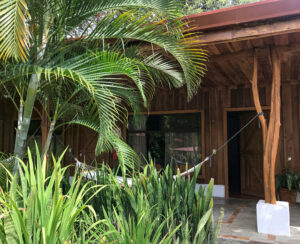 Hacienda Guachipelin sits on a 3,400-acre ranch in the dry tropical forest in the Guanacaste lowlands to midlands. The ranch has been in existence since 1880 and has been privately owned and operated as a destination resort since 1975. Its extraordinary location next to the Rincon de la Vieja National Park, swimmable rivers and waterfalls, paths through massive oak forests and around unforgettable Guanacaste trees, pastures with horses and cows, and easily accessible volcanic hot springs offered us a rich experience that was genuinely Pura Vida.
The following morning began with a coffee on our veranda, and directly in front of our suite (yep, the matrimonial suite with all the lovely amenities) was a huge Elephant Ear Tree that became the national tree of Costa Rica in 1959. I read that the tree was chosen in part because of its greenery and beauty, but also because the shade that it provides is symbolic of the protection that the people of Costa Rica receive from their government. Beneath its shelter we walked to our morning buffet breakfast in an outdoor setting resplendent with cute Rufous-naped Wrens flitting from the nearby vegetation into the rafters of the restaurant.
Traveling with teens presented us with the wonderful challenge of balancing our preoccupation with birding with activities slightly more energetic. By virtue of its size, there were miles of hiking and cycling trails throughout the property, and day one found us hiking a couple kilometers to some beautiful waterfalls with turquoise pools beneath. Sooney, Michael, and I had taken our time getting there (generally stopping at every peep and chirp emanating from both sides of the trail) and arrived to see Alicia and the girls leaping into the river from smooth rock platforms above the waterfalls. There were a couple more pools down river, and at the second pool we spotted a very difficult bird to see: the elusive sunbittern. Alas, it flew downstream and, not discouraged, I promptly set off for the final pool a short distance away and there was my bird. My photograph didn't capture the colorful display of its wings in flight, but to simply catch up with him was satisfying. It had paired up with a companion and was searching the rocky shoreline for munchies, evidently undisturbed by my camera's shutter, and we shared the beautiful environment each in our own way.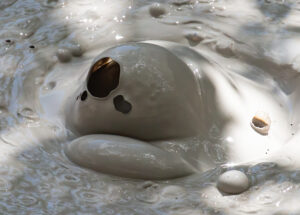 Upstream from Rio Negro Hot Springs—one of the many amenities of the Hacienda—is the entrance to Rincon de la Vieja National Park, a Yellowstone-like geothermal site. We opted for the 2km loop trail that thrusts one immediately into the dense rainforest complete with waterfalls and steaming thermal pools. We chose to walk the trail in a clockwise direction, and after a leisurely hour or so, enjoyed the warm sunlight of Las Pailas (The Cauldrons) that characterizes the western approach to Rincón de la Vieja and is named for the boiling mud pots, steam vents and mini-geysers that frequent the area. From there it's a short distance back to the ranger station, and along the way we spotted an Agouti, the coarse-haired forest rodent that was perfectly comfortable with us watching it grovel about in the forest muck. The road to the national park passes through the Hacienda and, after a brief visit to the property's Oropendola falls, we returned to happy hour at our base camp—the cafe by the pool. En-route, we noticed the stainless steel steam delivery pipes that snake their way from wells driven into the earth to the turbines in the generating stations.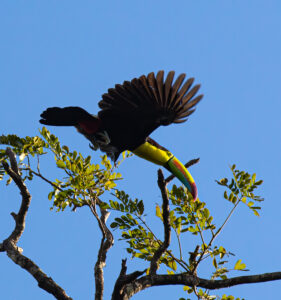 We  enjoyed our mornings, quietly  birding the grounds, and sometimes meeting up with the gang for breakfast. Fortified by a plentiful course of rice, beans, eggs, tortillas, and fruit, all the excitement began. On one occasion we chose to bird a section of the property while the family rode 15 km on challenging paths, across rivers and creeks, through mud and over rocks…returning sweaty and hot, red in the faces and on their last legs. Nothing that lunch and a swim in the pool can't remedy. Not to be outdone, they followed that bike trip with a "canyoning" adventure that included repelling down the face of a waterfall as the water blinded you with its force. You then somehow detach and jump off into a deep pool beneath the falls. That sounds like olympian behavior to us. Kids!
On our final day we started out at sunrise with the intention of driving to a particularly birdy spot we'd discovered the previous evening. Silhouettes of birds are difficult to ID, and we opted for early morning sunlight to brighten our options. The low light transformed a posing Turkey Vulture into a thing of wonderment. Not far beyond was a sighting of a Keel-billed Toucan preening itself mid-way up a roadside tree. There's not much we don't stop for when we can, and photographing that bird (and another Roadside Hawk across the street) was a fitting end to our lowland adventure to Costa Rica. After collecting the family and bidding goodbye to the wonderful staff at Hotel Hacienda Guachipelin, we drove the perilous road to Arenal Observatory and arrived a bit early for checking in. Coincidentally, within minutes of our arrival was the beginning of a free hour-long guided walk through sections of the Observatory. While checking out the noisy Oropendolas we happened onto a Yellow-fronted Toucan (inspiration for the second half of this post's title). We finished one adventure with one Toucan, and began our next with yet another species. A 2-Toucan day, with more excitement to follow.
I've compiled a gallery of photos from this leg of the journey that you may enjoy. Click HERE to open the gallery, click on an image to enter full screen, and use your computer's arrow keys (or scroll through on a phone) to enjoy the show.