La Selva Biological Research Station – Chiamate, Sarapiqui, Costa Rica
Following our reintroduction to Costa Rica at the Hacienda Guachipelin in Guanacaste, we headed into the nearby highlands to Arenal Volcano. The drive took about 3 hours, and we traveled mostly through fields of pineapple and watermelon, and groves of mango and papaya, all of which accompanied every breakfast so far. Our destination was the Arenal Observatory Lodge that was formerly the site of field studies by the Smithsonian's volcanology staff. In 1972 it was sold to a local family who converted the 870 acres into what is now one of the premiere birding lodges in the area. The six of us were still traveling as a group, so we chose the White Hawk Villa, a ½ km. from the lodge and restaurant, that featured an unrestricted view of the south side of the volcano 1.7 miles away. We loved the remoteness of the villa and found the accommodations perfect.
Arriving in the late afternoon, we settled in and prepared for day one: screaming through the canopy on 7 zip lines that begin atop a ridge  overlooking Lake Arenal. The zip line was managed by Sky Adventures, and our package included a 2km hike up, down, and through the rainforest on well-maintained trails and a couple suspension bridges. The tour culminated with our guide sharing the secretive location of an Eyelash Palm-Pitviper, named for the bristly scales above its eyes. The combination of these exciting activities filled our first day, and the rest of our 4-day visit was spent birding, touring a coffee and chocolate farm in La Fortuna, and Alicia and the gang riding horses through nearby fields, enjoying some Howler Monkeys in nearby trees. On Cassidy's 13th birthday, the girls enjoyed a spa visit followed by a poolside meal (Casado Arenal was a favorite) and non-alcoholic cocktails named after birds. The Great Currasow and Bay-headed Tanager come to mind. Breakfasts were taken in the lodge's dining room, and we enjoyed the unpredictable sights, sounds, and weather during our morning walk. The dining room's picture windows had black twine hanging every 4″ on the outer surface, providing an effective method of preventing injury to colorful tanagers, honeycreepers, and several other species that visited the feeders each morning on the nearby deck.  A collection of photos captured at the Arenal Observatory may be seen by clicking this link.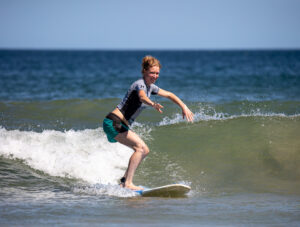 From the highlands, we returned to the airport town of Liberia en-route to the coast, our final destination with the family. We'd selected quiet Playa Hermosa for our final accommodation to chill out, reflect on the adventures so far, and enjoy incredible sunsets that began, fittingly, at happy hour. This quiet beach community is a favorite of locals, and was mostly accessible on foot. Several restaurants line the beach, and a gentle break keeps away the rambunctious surfers. Oh, yea, we certainly gave surfing a shot, dedicating a day trip to Tamarindo an hour or so south. The kids quickly took to riding the small waves on balsa boards and had a ball while Sooney and I kept to the shade when I wasn't photographing Boobies (that's the Brown, a local sea bird).
As the first leg of our journey wound down, Alicia and family had some logistical responsibilities to address prior to returning home. The US required a negative COVID-19 test within 3 days of departure, and while they dealt with that and picked up Carol at the airport, Sooney and I found a local birding guide with whom we spent the better part of a day. We began at 5am, and while dawn was just around the corner, it was too dark to photograph a pair of Spectacled Owls roosting up high in a grove that was his favorite go-to spot. That's why we love birding with guides. He then took us down one of those nameless dirt roads to an estuary at Playa Panama where we saw a Common Black Hawk perusing the scene. I noticed some activity deeper in the mangroves, and discovered some White Ibises and a juvenile Common Black Hawk trying to figure things out. It was fun birding the coast at low tide, and 4 species of herons flew in (a Little Blue, a Great Blue, a Yellow-crowned Night Heron, and a tricolored). A couple Belted Kingfishers were, well, fishing, and scampering in and out of the small waves were Turnstones, a Spotted Sandpiper, a couple Willets, and a Whimbrel all of which we recognized from birding trips to the Oregon coast.
After lunching at our guide's favorite local diner, we finished up birding a sugarcane field popular with Tricolored Munias and Crested Caracaras. Surprisingly, not far from the road, he spotted something unusual that Sooney quickly identified: 5 Greater White-fronted Geese, a bird with one of the largest ranges of any goose in the world, including our local golf course in Oregon. He was beside himself, and immediately contacted his birding colleagues on WhatsApp. As soon as Sooney posted the sighting on eBird, his phone was pinging and plans were developing throughout the country to come see these rare geese. It was, indeed, a remarkable event and proved to be the first sighting ever in Costa Rica. One of the authors of The Birds of Costa Rica, the seminal research guide, joined Rusby that afternoon after our birding adventure came to a close. He particularly appreciated Sooney identifying the birds and for crediting him on eBird as the first sighter; a prestigious moment that garnered him the praise of his local birding community.
Sooney's sister, Carol, joined our group for the last day of our coastal holiday, and we celebrated with yet another order of ceviche (marinated fresh fish) a favorite appetizer at a favorite beachside eatery. The waning sunset was a fitting metaphor for the completion of one component of our family vacation. The following morning, we dropped off the Bend contingent at the airport, swapped out the larger rental car for a smaller one, and began the second leg of our birding safari.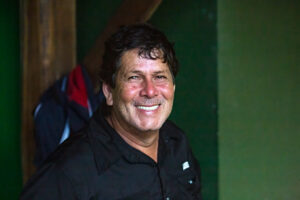 Since we'd such a great time at the Arenal Observatory with Alicia and family, we returned there with Carol for a couple days and connected with Gabriel Rojas, a local birding guide. He amazed us with his imitation of the Semiplumbeous Hawk and the White-collared Manikins, and while we heard them rustling around in the thicket, none appeared long enough to photograph. During lunch, we shared our eBird lists of nearly 80 species seen just that morning!
While there're no shortages of bird sightings at the Observatory, we'd heard good things about birding the Bogarin Trail in nearby La Fortuna. Once there, Sooney requested an experienced bird guide. The receptionist looked past us toward an unassuming fellow sipping a beer in the corner. "That's Giovanni Bogarin; he built the place and may just be the one you're looking for." Although he'd been away for 3 days and was relaxing after a long drive, Giovanni happily agreed to show us around his creation.
"I had a dream when I was a young boy. I dreamed that I was lost in a labyrinth, and I was really scared. My mother comforted me then but I never forgot the dream. 40 years later, I was working at the Arenal Observatory as an assistant to a volcanology team, setting up sensors and checking data. My boss, a noted volcanologist from Philadelphia, told me that the data showed a decline in the pressure of Arenal volcano, and that the need for collecting data was coming to a close (as well as my work there). What would I do?
In nearby La Fortuna, I passed by some land and was astonished that this was the same place that I'd been lost in my dream as a boy. I spoke to the owner and indicated that I'd like to restore what was then barren grassland used for cattle ranching into a garden for wildlife. The owner agreed, and while I received no salary, I was provided for and began 20 years ago what we have here."
    —Giovanni Bogarin, co-owner of the Bogarin Trail in La Fortuna
In a mere 20 years, his "labyrinth" was densely forested with local plants and shrubs and it appeared that he knew every species in the place. At one point he walked a short distance off the trail, turned over some decaying leaves, and out jumped a Black and Green Poison Dart Frog. We kept our distance, and not far away was a strawberry poison arrow frog (affectionately nicknamed "blue jeans" for its blue legs). Another of his skills was mimicking bird calls with extraordinary whistling skills. Some of the birds actually "chatted" with him as we wandered the trails, umbrellas at the ready, and finished off at the reception area where his staff kept guests (and dozens of birds) happy with fresh bananas and papaya on trays and branches.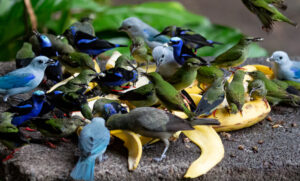 During our final dinner at the Observatory, we researched the impact feeding wildlife has on the local birding population. In nearby Panama, a live stream at an eco-resort is sponsored by none other than "The Cornell Lab," arguably the most prestigious avian research and conservation organization in the world. In Costa Rica, however, regulations are in place that ban bird feeders to reduce birds relying on humans. Considering the same government supports clear cutting millions of acres of rainforest in support of monoculture pineapples, bananas, coffee and grass, the ban is questionable. Granted, the setting out of fruit is not natural but it does bring many birds in for closer viewing. Is that in the best interest of the birds or the tourist industry? There's always another side of the discussion and, quite simply, we maintained a respectable distance and kept our eyes on nearby trees, shrubs, and ponds where some of the birds waited their turn.
And then there are the animals who prefer insects over fruit. Giovanni has a remarkable ear and is able to whistle the songs of a vast number of local birds. Perhaps not surprising, his 13-year-old son has a passion for opera and he proudly played a phone video of him, singing like his birdy dad. In one instance, beckoned us over to a nearby pond surrounded by banana plants. We heard the call of the secretive White-throated Crake, a very difficult bird to see, much less photograph. Giovanni had a plan, however, and brought out a machete and proceeded to cut down a couple meters of bananas. He deftly felled them into the pond and instructed us where to stand and be patient; the bird was nearby and very curious. He then returned to the reception area and schmoozed with a group of newly-arrived tourists. Sure enough, about 5-minutes later our target bird appeared looking for bugs among the fallen banana leaves. One could arguably say Giovanni was "feeding" the birds but I prefer it to his carefree approach to vegetation thinning; nothing wasted and a couple of customers thrilled.
I've compiled a gallery of photos from this leg of the journey that you may enjoy. Click (CR2 and/or CR3) to open the gallery, click on an image to enter full screen, and use your computer's arrow keys (or scroll through on a phone) to enjoy the show.